The intrapreneurship as a service of kickworkx enables a higher density of ideas in the company, a better innovation base, and a stronger commitment and a more intense commitment between employees.
Innovations are the engine for business growth. Organizations are increasingly investing in innovation-programs, labs, incubators, accelerators or innovation centers. In the development of ideas and the realization of innovations into the organizations, there are four major hurdles that over 80% of companies experience as innovation barriers:
An innovation-averse corporate culture
Unripe innovation processes
Lack of (leadership) resources for innovation
Low use of innovation ecosystems.
How can organizations drive innovation?
To overcome these hurdles, innovation must be much broader and deeper into the organizations and needs to be implemented successfully:
A systematically planned innovation process
Innovation-driven corporate culture & executives
A use of internal and external ecosystems
Faster decision-making processes
More flexibility and agility, less bureaucracy
To achieve this, the greatest innovation potential lies in their own employees and their ideas. The principle of intrapreneurship means "Entrepreneurship in the corporate world". It promotes employee empowerment, allows for freedom of experimentation and growth within and outside of one's own organization.

How can intrapreneurship be structured and work without additional internal resources or experts?
At this point, kickworkx comes into play. With Intrapreneurship as a Service,​ we create a​ framework for innovation, have the necessary tools, networks, ​and experts to successfully support innovation drivers in companies. The proven intrapreneurship as a service of kickworkx is based on three pillars:
1. kickworkx Ideas Building Kit (kickbox +) = Proven Innovations toolbox
The intrapreneurship as a service of kickworkx extends the proven kickbox approach (based on the Adobe Kickbox, which is under the Creative Commons Attribution license) and gives innovative employees and teams a structured process and all the tools and tools with the ideas kit the hand that needs it for successful idea development.
2. kickworkx Booster Network = External Know-How & Collaboration
At the heart of our intrapreneurship as a service are the supporting resources contained in the Ideas Building Kit. The diversified Mentor & amp; Expert network offers expertise in the areas of law, pitch & amp; Coaching, prototyping, UI / UX, business case, sales, and marketing, etc. up to eight double coaching units with experts from different disciplines are available. Having the right subject matter expert at the right time decides on the success of the idea development process.
3. kickworkx outsourcing = flexible & agile innovation spaces
The intrapreneurs remain part of the organization​ but temporarily act as mini-companies within the company. Kickworkx offers outsourced biotopes for pioneers, where they can give free rein to their innovative and creative will. Freedoms and the ecosystem are broad and varied.
The effectiveness of the intrapreneurship as a service of kickworkx unlike comparable innovation programs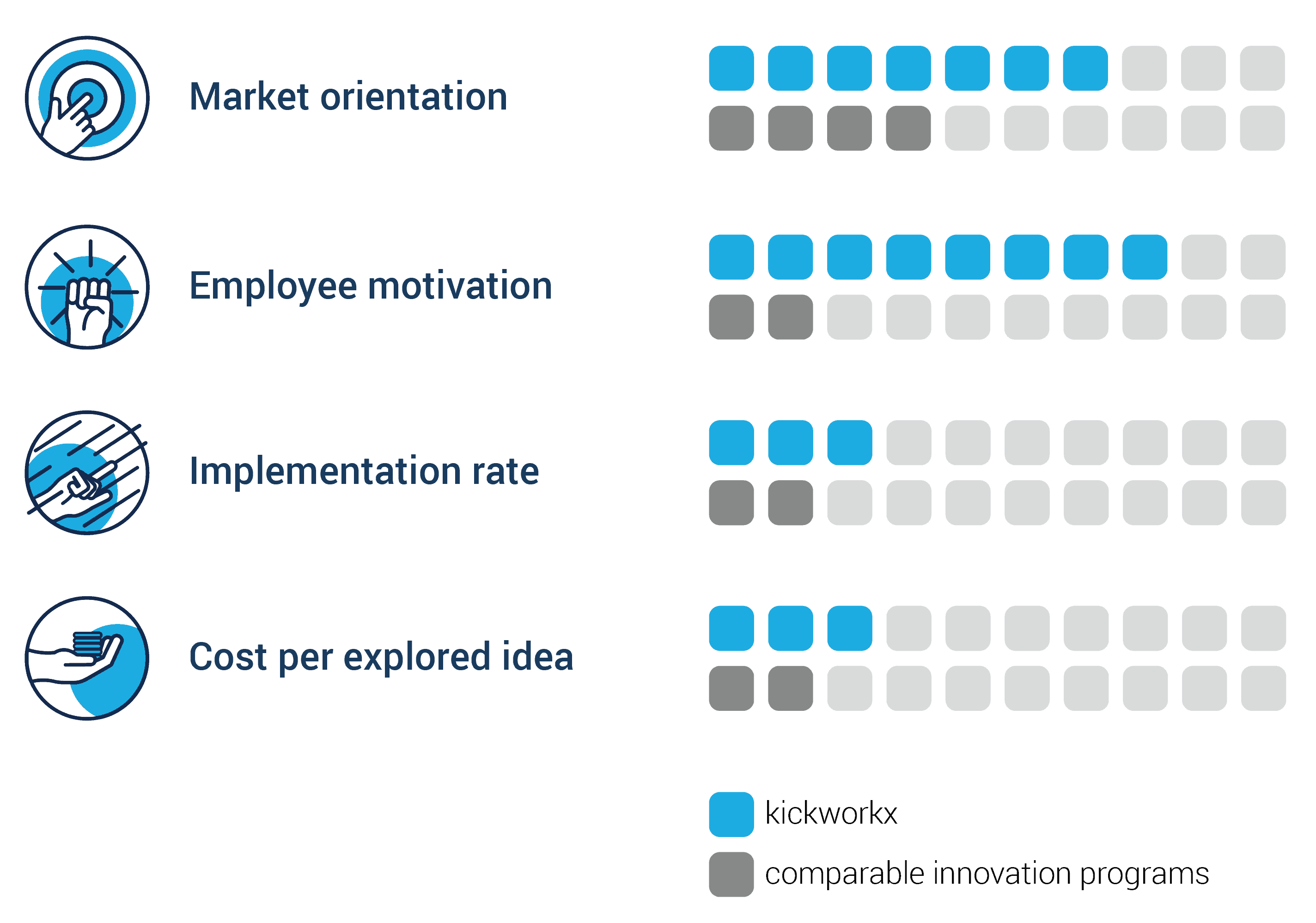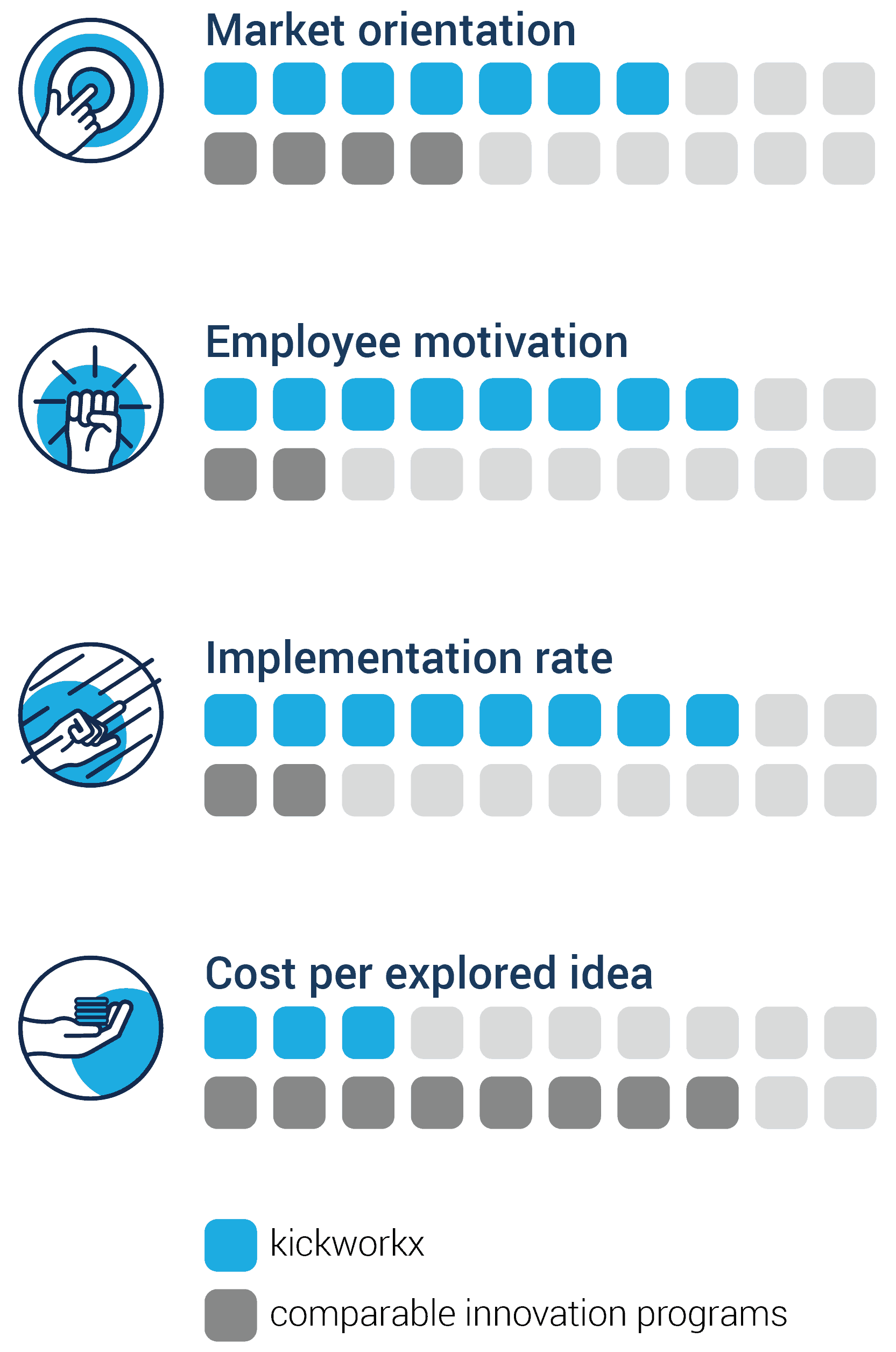 Continue to the right solution for you
Innovation & Intrapreneurship FAQs
Why is innovation such a difficult topic for established companies?
In start-ups, this is the lived corporate culture, in established companies and corporations there are hurdles to realize ideas and innovations. Lack of resources and experimentation, as well as the pressure to avoid mistakes, do not create a suitable environment for giving free rein to creativity and promoting ideas. Achieving an innovation efficiently requires an external innovation ecosystem and professional implementation.
Why do not so many innovation projects in companies bring the expected results?
If an innovation project fails in the business, it is in most cases not due to its quality, but to the wrong, complicated, sluggish & nbsp; Implementation within the organization. Innovation is not a priority, day-to-day business is about to happen, or your own company structures are in the way of implementation.
Do employees have no or the wrong ideas?
"Where wood is chopped, splinters must fall!" There are no false ideas, there is only one unprepared corporate culture that either does not allow for ideas or creates space to develop and realize them. This includes a culture of failure. Wherever new things are tried, risks are taken, errors can slip in, they are inevitable. Decisive however is the handling with them. There are no wrong ideas, the courageous confrontation with these is important.
Why does kickworkx need it - why do not companies do it themselves?
In order to establish a functioning intrapreneurship program in a company, in addition to a proven process and available budgets v. A. Resources in innovation management and the necessary subject matter experts to accompany the employees in their idea development. Since these basic requirements v. A. In terms of resources, they are often difficult to replicate internally, but a lean outsourcing solution for intrapreneurship can often work wonders.
With the kickworkx Ideas Kit, Kickworkx provides their employees with as a service support and guidance necessary to develop their ideas freely. After Idea Call and Kick Off, kickworkx takes over the entire process of idea generation, booster coaching, startup space and individual attention to ideas until the final pitch day.